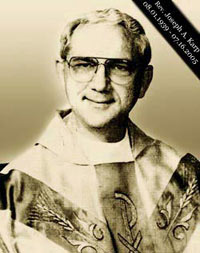 Fr. Joseph Anthony Karp was born August 1, 1939, in Brooklyn, New York. The family moved to Poland after his birth and returned to New York in 1946, after the WWII. His both parents died when he was 14 years old. At this time, he began to work on Wall Street while completing his high school education at La Salle Academy in New York City and supporting his two sisters. At age 23 he entered St. Mary's Seminary in Orchard Lake, Michigan, and was ordained for the Archdiocese of Los Angeles on April 22, 1967.
His first assignment was at St. James in Redondo Beach. He later served at St. Gregory the Great in Whittier, Our Lady of Fatima in San Clemente, and St. Boniface Church in Anaheim.
In 1976 Fr. Karp was a pastoral assistant at St. Justin Church in Anaheim and was also caring for Polish and Spanish communities in Orange County.
In 1977 the late Bishop William R. Johnson appointed Fr. Joseph A. Karp as a director of the Polish immigrants living in the new Diocese of Orange. Weekly services were held at various locations: St. Justin Martyr Church, Sister's Chapel at Rosary High School in Fullerton, and a Chapel at the funeral home in Anaheim.
The first mass at the John Paul II Polish Center was celebrated by Fr. Karp on January 16, 1983. Since that time the Center has truly become a center for various Polish activities.
Fr. Karp attained post graduate certifications from Loyola University in Los Angeles -Hispanic Language and Culture with foreign studies in Guatemala and Mexico, June 1978. He earned his Accreditation and Certifications in Clinical Pastoral Education at St. Joseph Hospital in Orange, California, in June 1990.
Thanks to the great commitment and support of Fr. Karp, the Polish Center in Yorba Linda has been growing year by year and is still very active today.
Due to some health issues Fr. Karp retired in 2000. He passed away in 2005 at the age of 66.
Polish Community of Orange County is forever grateful to God for Fr. Joseph priesthood and his devoted, and passionate service. May he rest in peace.
We would like to express our deepest gratitude to Fr. Joseph for the gift of his life and priesthood he offered us over the years. We would like to thank all those who were close to him and who helped him bring the good news to others. We would like to thank all those who continue his work here, at the Polish Center and carry on the sense of community, unity, faith, peace and the spirit of working together. We also would like to thank all of you who paid respect to our Pastor and for all your prayers and condolences.
Fr. Karp is survived by his sisters: Laura E. Sidorsky, Frances Barker; nieces: Maryann Sidorsky, Frances Sidorsky, Kathleen Gugg, Jeanine Barker; and nephew: Mark Sidorsky.
Founder and Director of Saint John Paul II Polish Center in Yorba Linda, 1983-2000.