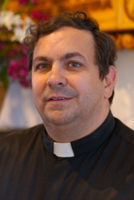 Fr. George is a native of Manchester, N.H. He is the 5th child of ten and moved with his family to Garden Grove, Ca. when he was 16 years old. They attended St. Columban Parish.
   Upon graduating from Bolsa Grande High School, Fr. George began working in various fields from factory work to being a data analyst for TRW. During this time, he attended night classes at Santa Ana Jr. College and Cal State Fullerton, where he majored in Business Administration.
In 1983, he transferred to St. John's Seminary College in Camarillo, CA. and was ordained for the Diocese of Orange on June 9, 1990.
Fr. George began his priesthood career at Blessed Sacrament Parish in Westminster. He also served at Our Lady Queen of Angels – Newport Beach, Santiago de Compostela – Lake Forest, St. Timothy – Laguna Niguel, St. Mary – Fullerton, and St. Joachim's in Costa Mesa.
His personal Mission: To help all people to identify their God given gifts and talents and encourage and empower them to use these gifts for the greater glory of God.
Director of Saint John Paul II Polish Center in Yorba Linda, 2006-2008.