After World War II many Polish immigrants from various parts of the world migrated to Southern California. Initially they attended social functions and religious services in the Our Lady of the Bright Mount Polish Parish, on Adams Blvd., in Los Angeles. Having distanced themselves in far-away residences in Orange County and in Long Beach, the Polish Community held their weekly services in the Orange County churches of St. Anthony Claret and St. Justin Martyr in Anaheim. The congregation also held weekly masses at an Anaheim funeral chapel, and finally in Rosary High School in Fullerton.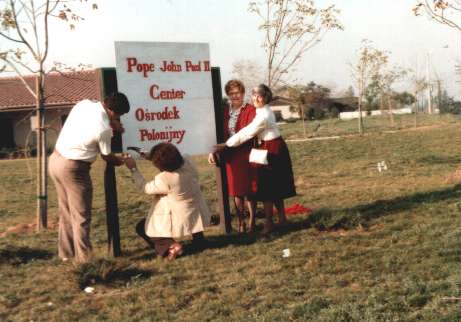 When the Diocese of Orange became a reality, the late Bishop William Johnson appointed Reverend Joseph A. Karp the spiritual director for the Polish Community in Orange County. This was to satisfy the spiritual and social needs of the Polish faithful living in the area of the Diocese of Orange. The aims: 'to keep alive in the hearts of the Polish Faithful the rich religious and cultural heritage & traditions of their forefathers; to preserve the Polish language among the first and second generations and to allow full participation in the Liturgical functions for the newly arrived into this area.' The first mass at the John Paul II Polish Center was celebrated by Fr. Karp on January 16, 1983. Since that time the Center has truly become a center for Polish activities such as: Polish language classes (for beginners and advanced), traditional events and entertainment, speakers and various club meetings. One of the enduring traditions of the Polish Community in Orange County is the continuation of an old Polish custom of celebrating the harvest of the crops (Dożynki) in the autumn months. The Harvest Festival in Yorba Linda begins with a procession wherein the field workers present 'gifts of the earth' to the Lord and Lady of the manor following the successful harvest. After the procession, the Polish folk dance groups, and singing groups perform. Delicious ethnic food is then enjoyed by all.
On October 19, 1986, the John Paul II Polish Center dedicated a plaque in memory of the Polish martyr of faith, Father Jerzy Popiełuszko. The Bell Tower was erected as a symbol of unity of this community calling the members to the worship of Almighty God. The bells (three bells) were cast in Poland in 1987. On November 26, 1989, the Feast of Christ the King, the bell tower was dedicated.
With the new addition to the church buildings, almost 1700 families and still growing, the Center has become a lively cultural and spiritual centerpiece of Polish Americans in Southern California. Our Harvest 'Dożynki' Festival which we celebrate annually on the third weekend of September now gathers more than 5000 visitors. Please visit our website again for updates on the Festival.